Fender American Professional Series
A Story of Three Parts

When the most iconic American-made line of basses (and guitars) gets a design makeover, you know it's going to be a big story. But what always interests me are the stories behind the story. Like most good stories, this one has several sides; three, in fact.

Part 1 – The New Lineup

The primary message on point is the introduction of the new Fender American Professional line of guitars and basses, so let's cut to the chase and talk about what's new. The American Professional series replaces the American Standard series, and the bass lineup consists of 4-string and 5-string fretted Jazz Bass and Precision Bass models, as well as a fretless 4-string Jazz model.

The most obvious changes are the two new colors, Antique Olive and Sonic Gray. These are not "throw-back" colors; they are brand new mixes of tints. However, they certainly do have an authentic vintage vibe to them. Once you have them in hand, perhaps the next most obvious change involves the neck shape. All four of the neck options (4 and 5-string Jazz, 4 and 5-string Precision) are technically "new," though they all find their roots in favored neck shapes of yore. The 4-string Precision neck seems particularly spot-on, and hearkens back to the classic '63 P-bass shape. All of the 4-string J-basses sport a 1.5" wide nut and a thin profile, front to back. The fretless neck is especially compelling. Both 5-string necks feel like logical extensions of their respective 4-string brethren.



If you have a keen eye, you may notice the HiMass™ vintage bridge, which allows for through-the-body stringing, or attachment at the back of the bridge. Once you've played them for a few minutes, you will notice the narrow/tall frets. Fender chose this option after play-testing numerous fret setups, and they tout the ease of bending notes as one selling point. Personally, I prefer thinner frets so that I have more room to place my thick fingers when I get above the 12th fret. One of my favorite innovations are the new "fluted" tuning shafts. Instead of the normal "hour-glass" shaped tuning shafts – which naturally force the string windings to the middle of the shaft – the fluted shape means that the strings are forced down against the headstock, creating more downward force on the strings at the nut (offering better sustain and less chance of string rattle). So simple, and so smart!

The final tweaks are not immediately obvious. The new Posiflex™ graphite rods in the neck actually work harder to keep the neck straight when there is more force trying to make them do otherwise. Perhaps the most significant change, though, involves the pickups. The new V-Mod single-coil employs two different magnet materials in the poles. Alnico 2 magnets are used for the pole pieces serving the lower strings (E and A, plus B on the 5-strings) and Alnico 5 is used under the D and G string. Oftentimes, the decision of what magnet material to use involves a choice of trade-offs, as what is best for the higher strings is not always best for the lower strings, and vice versa. This "mixed-magnet" approach attempts to offer the best of both worlds, and I have to say, it delivers! The higher strings have a very open, airy feel, which I don't normally experience in fully passive instruments. Overall tonal balance and volume stay very even as you move from string to string, especially if you dig in a bit or play with a pick.

The Winds of Change

To understand the significance of the American Pro line, I'm going to take you back to the 2016 Winter NAMM Show, when our friends at Fender were showing us the new Elite series (which replaced the USA Deluxe line). These basses are phenomenal (and you can find our full review of the Elite Jazz V in our Summer 2016 issue), but I was also struck by the genuine excitement and depth of knowledge displayed by the Fender NAMM Show staff. While we had always enjoyed our trip to the Fender room at NAMM, there was a new level of excitement in the air. Something had changed…

Following the Winter NAMM Show, we quickly had an instrument in our hands for review, and several other reviews in the works. Later, when Summer NAMM approached, I was pleasantly surprised to see that Fender would have a booth (Fender had not officially attended the Summer Show for a number of years). In Nashville, the palpable level of excitement continued, as Fender showed us the new products for the Show, including the seriously cool Mustang P/J bass, the Flea Bass (Jazz reproduction), the new Deluxe line, and the gravity defying Fender Bassman 800 head.

A pattern was forming, and initially, I was mostly impressed by the pace and extent of the new product offerings, themselves. The USA-made Elite series are challenging the highest end of the custom-made J and P-style basses. The new Deluxe line brings full features, iconic looks and more to a highly competitive slice of the market. The Mustang P/J takes advantage of the renewed increase in short-scale basses, and the Bassman 800 allows Fender to keep up with the class-D arms race among bass heads. But still, I sensed that I was missing a critical element of the back story…

A Private Audience

In November, Fender invited members of the guitar and bass media to attend a private event in Hollywood. The purpose of this event was to allow us to spend some time with the new American Professional models, and to allow us to speak with the people behind the design changes which led to this new line. Afterwards, we were treated to a dinner with several members of Team Fender, including the newest "big guns," CEO Andy Mooney and CMO Evan Jones. This level of access to not only the design team, but the highest levels of management is unheard of in a company of this size. Once again, as impressed as I was by the new instruments, a more significant change was in the air.

Part 2 – The 70-Year-Old Start-Up

As mentioned above, I first noticed the new attitude at Fender starting at the 2016 Winter NAMM Show, and every interaction I have had with Fender staff since then has reinforced this feeling. This new attitude definitely starts at the top. Both Andy Mooney and Evan Jones have experienced great success in taking well-known brands (like Nike and Disney) and making them even better.

I decided that what was really making a difference in pretty much all of my dealings with Fender staff over the last year or so is that talking to them was like talking to a new startup company. They were earnestly excited about their great new products, and literally bursting at the seams to tell us all about them. What's more, they really knew the details regarding what was new and exciting about their latest products, and they were doing a great job of explaining it all. This is quite a contrast to what we have come to expect from some of the "big names" in the industry, where the products (and their lineage) are supposed to speak for themselves, and the staff seems disinterested, at best, or else annoyed (or not even present).

Following the media event, I had an opportunity to interview Evan Jones and Justin Norvell, VP Electrics, Guitars and Basses.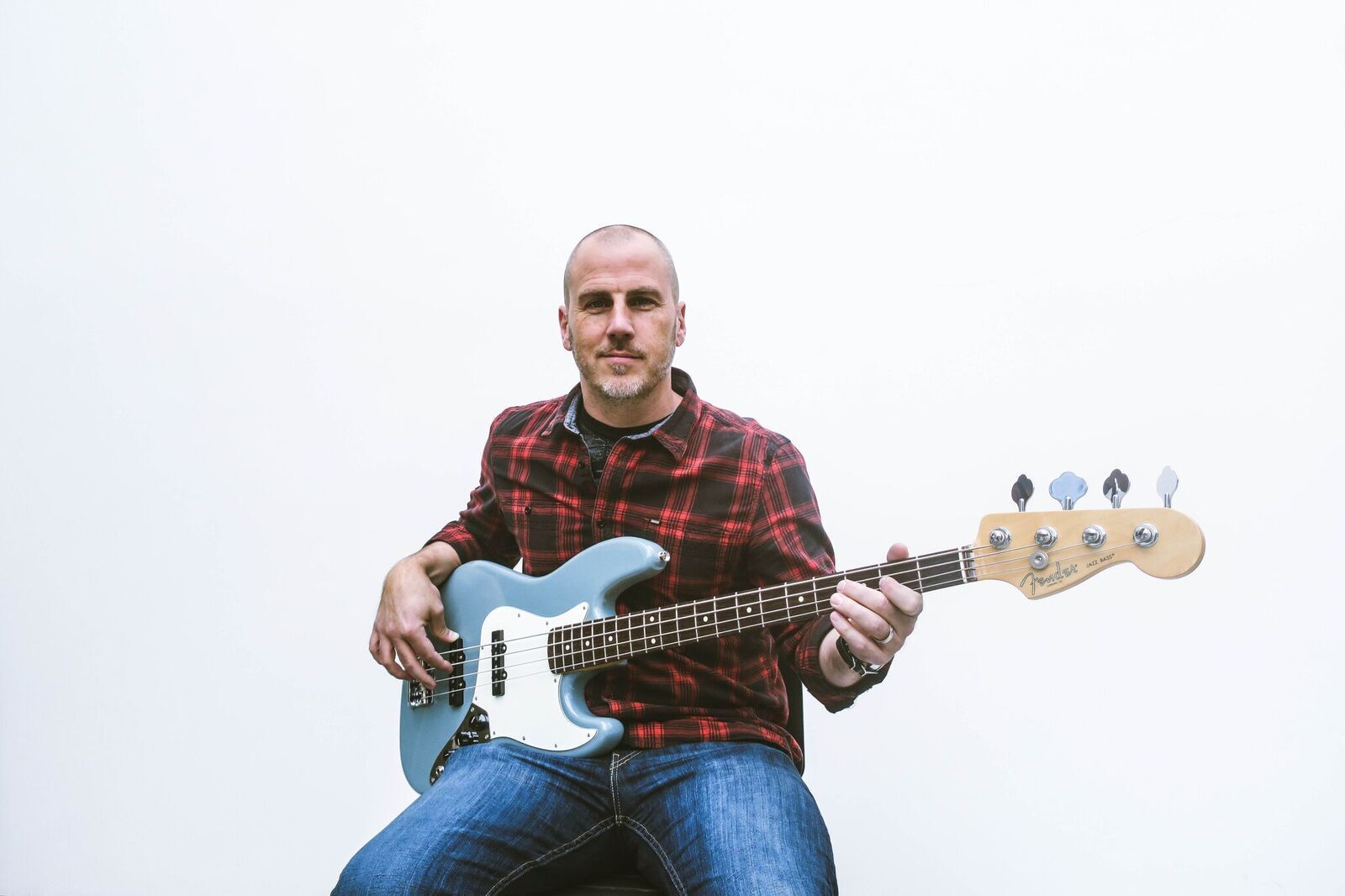 TM – With regard to some of the features, such as the fluted tuners and the pickups, will these remain unique to the American Professional line, or might we see them pop up in other models?

JN – As of now, they were invented for the purpose of this series. There's always the possibility that things will cascade into other models, but for right now, they're brand new and only available on the American Professional.

TM – Is the same true for the two new colors?

JN – Yes. We like to keep the different series pretty different, so that each player can find their fit and their sound. Where the Elite is the passive/active, kind of high-performance, compound-radius type instrument, this series is a little more meat-and-potatoes. Each one has its own identity. So, those features will probably just be core to the American Professional.

TB – The one feature I was thinking about which offers a slight, but clear, advantage are the fluted tuners. Might we see those further down the line in the Elite series, or other instruments?

JN – Over the next year or so, we'll see how people react, and obviously if there's something that is of great benefit, like the fluted poles, it could be incorporated into different styles of tuners. It's definitely something that we were looking at, which especially on a Fender bass, can be problematic. The string angle starts to pull the string up, and you get that rattling A string. In order to get that break angle, in the past on the American Elite series, we've used that little retaining bar underneath the washer that holds the A string down. But this is a pretty elegant solution. The big deal is that we had to tool-up in manufacturing in order to make them this way, but we thought it was totally worth it.

TB – I think it's brilliant. A lot of people, either through lack of experience, or whatever, end up wrapping their strings wrong, and they get that buzz/rattle, and they don't know where it's coming from, and they think it's coming from their setup or their frets, and then you press down on the afterlength, and say, "Guess what, buddy? Here's where it's coming from."

JN – Absolutely. And it's simple; it's just gravity and the geometry of being able to adjust the taper of the way that the string just naturally wants to wrap, instead of worrying so much about having to get it perfect when you're restringing. We don't really set out at one point to say we're going to do this series or we're going to remake this whole deal. We wake up each day think, "How do we make it better?" – whether it's a Jazz Bass, Precision Bass, etc. Then eventually, we begin to see an amalgamation, where all these small improvements all added together could be very complimentary and improve some of our core families of instruments. Even just going to a real bone nut – from the melamine or cyclovac one that most people usually use – is another upgrade that we thought was great. They're all small things, but that combination of a bunch of small things makes a huge difference. It's greater than the sum of the parts. Instead of a list of ingredients, it's more like a recipe. The pickups were a big part of that, as well.

TB – What nut material were you using on the American Standard basses?

JN – It was melamine.

TB – On the Elites, are those bone?

JN – Those are also the synthetic, melamine material. This is the first time on a production-level instrument that we've been using bone nuts.

TB – That's interesting; I did not know that. With regard to the pickups, is this the first time that you have used two different types of pole piece materials?

JN – Yes, and that was a pretty interesting dive. It ended up a little different on the basses than it did on the guitars, and it kind of went against our natural hypothesis. We tried, literally, almost every type of magnet materials. We had alnico 4, 3, 2, 5, and all different kinds of combinations. We had combinations where in the clustered pairs, we would use the 5 and the 2, and it didn't work as well. It created a little imbalance in the magnetic pull; they weren't equalized. Initially, we thought maybe having 5's for a little more punch and attack on the low strings and putting 2's to warm up the higher strings would be a nice complimentary combination that would move everything into the middle. But what we found was that it was much better when we inverted that, and just accentuated the core, fundamental purpose of each of those pairs of strings. On the low strings, the alnico 2's are much warmer, rounder, and enhance their natural sound. On the G and D string, we went with the alnico 5's, which should "up" the punch, and snap and clarity a little.

TB – I know you guys spent a lot of time working on the neck profiles for each of the models, and I wondered if you could give us a little insight into the target for each profile?

JN – The main ones – the J and the P – we felt like this series is supposed to be the "center of gravity" of the Fender line. For instance, in 1963, the '63 P-bass was just the P-bass of that year, and the American Professional is kind of today's version of that instrument. People seem to gravitate towards a little more substantial P-bass neck, and a little thinner J-bass neck. So, we started off with the '63 P-bass neck shape; it's nice and fat, and it's got a nice taper on it. We actually had a couple of different variations, and we did a lot of real-world testing. We utilized our Artists Relations department, and had blind tests with artists and players, ending up with pretty unanimous winners in those circles. We wanted a substantial P-bass neck shape – more wood, more contact; a nice fat shape that's rock solid and stable. On the Jazz, many of the most popular instruments we've had were the old '62 Jazz Bass – which had a very thin neck – and the Geddy Lee – which has a really thin neck. People love those, but it's very hard to make those in a way that you can retain the stability, with the amount of tension that those necks can be under. To address this, we use our Posiflex rods – which are graphite-covered dowels that go inside two channels on either side of the truss rod – to a counterweight to increase the stability of the neck. That way, you're able to get that small, fast, fleet-fingered shape, but retain the stability that you want in a Jazz Bass.

Then the 5's were based on the 4-string designs, but moving into the wider fret board, wider nut width; just getting to a place where we retained the comfort and have a comfortable neck that feels like what it should be. It's really more about being able to bring out the strengths and the character and the identity of what we feel a P-bass and a P-bass player is, and what a Jazz Bass and a Jazz Bass player is.

TB – That's a big challenge on a 5-string, because you hold it differently; you position your hand differently than you do on a 4-string.

JN – Yeah, your thumb's on the back … yeah, totally. They're a little bit slimmer, just to make that work.

TB – Well, I thought they all felt great, and especially that P4 neck is just to die for.

JN – Thank you.

TB – Did you have a specific development period for this series, or is it all just the result of a long string of thoughts/improvements?

JN – It's kind of an on-going thing that we're always working on. We're always looking at the things which really matter, whether it's the bridge, the nut, the neck, the pickups, the electronics, etc. I would say on this series, when it really started coalescing was probably about two years in development. It was, literally, dozens of sets of pickups, and probably close to that in some of the core neck shapes. In our R&D group, we have a model shop, where we are able to do some fast prototyping. The guys back there do a lot of our first prototype builds, and stuff for artists, and they're building by hand every day, so they were always bringing us new neck shapes and new designs.

TB – Since I began covering the music industry, back in about 2005 or so, I have been through several "changing of the guards," in terms of whom I interface with at Fender. I have to say, this current team that you have in place, is unlike any I have worked with in the past. The energy and excitement and product knowledge is much more similar to what I would expect from an up-and-coming brand, as opposed to the biggest name in the business. Can you tell us a little bit about the current corporate philosophy at Fender?

EJ – I look at it this way. I've been here about twenty months, now [Ed. Note: as of December, 2016], and one of the awesome things when you walk into a brand like Fender is they have seventy years of authenticity and credibility and artist adoption. The product team's doing an amazing job of building exactly what the artists want, and there is a commitment on the artist relation side to providing a real service to artists. As a team, the stuff that Justin, myself and others talk about now is, "How do we make sure we stay relevant to where today's consumer's going?" In that respect, I describe us as a 70-year-old startup.

TB – That's funny, because I recently came to that same conclusion, myself.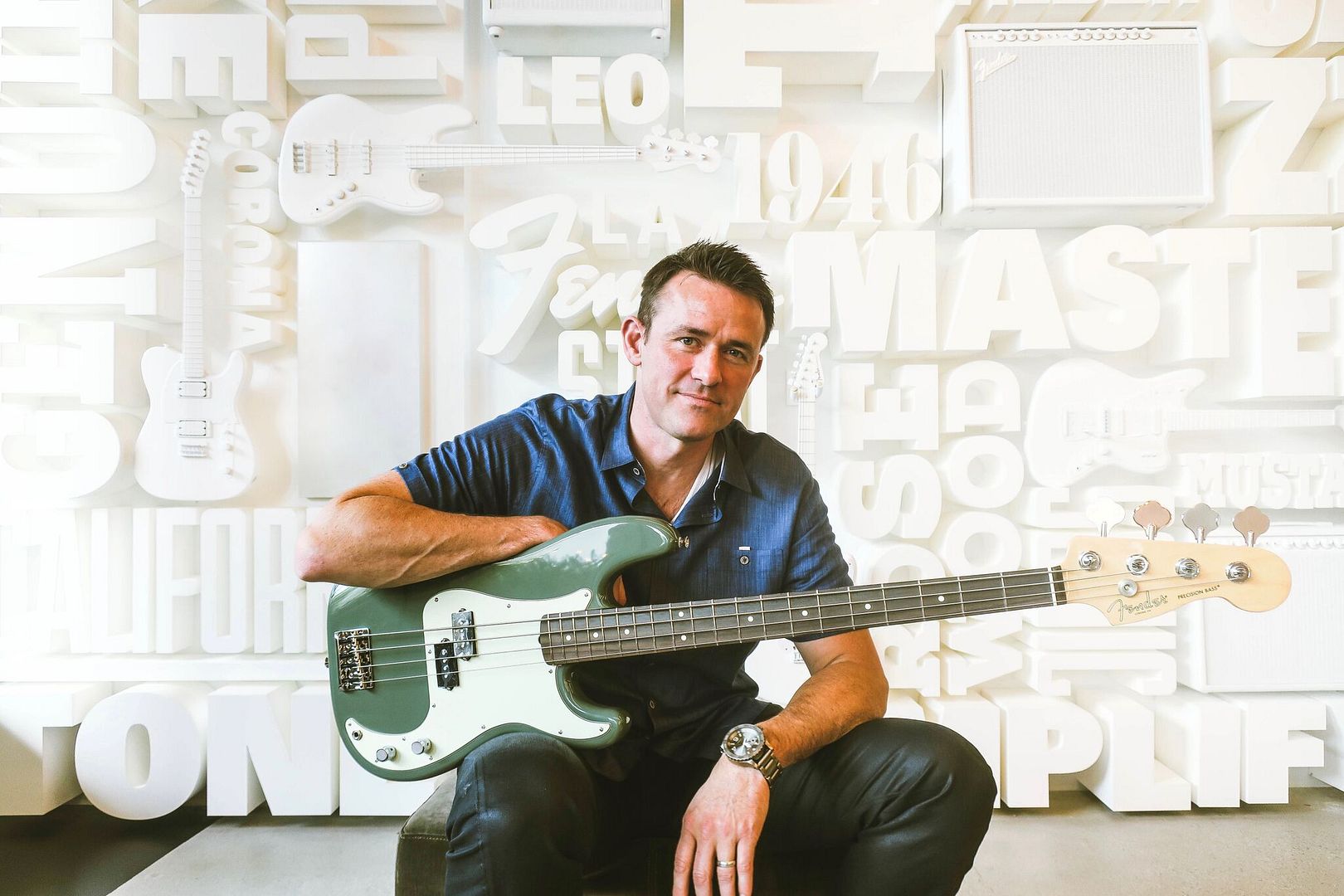 EJ – The reason I say that is, a "startup mentality" means you take nothing for granted. The best startups know who their target audience is. For us, it's really been trying to hone in on who our consumer is. I think for many years, Fender worked really hard to build great relationships with retailers, so that retailers had what they needed to sell. I think what we're trying to do right now, is build on that success, but also really start honing in on what a 16-to-23-year-old, a 36-year-old, or a 45-year-old want? It's important that we make sure that the brand stays relevant, from a marketing standpoint. I believe we have a real responsibility to keep guitar vital in music and culture. So we don't take any of our consumers for granted, we don't take any of the experiences for granted, and we don't assume that just because we launch a new line, everybody's going to high-five and adopt it. We really want to make sure that we get the storytelling right, and that we do the best job possible in positioning it so that people can find a way into it, and fall into the story – as opposed to just launching product and hoping that things go well. The way consumers work today, you have to prove it. Every touch. Every time you're happening.

JN – On the product side, I would say that we have a long, rich history in music, but the way that music is being made always evolves. Sometimes, it's not an overnight, complete 180-degree change, but it's something that we're watching and we're listening to. The way music is recorded is different, now. We want to make sure that our product still embodies everything that has made it what it is, and what's great; however, we are also making sure that as things change, and people want some different things out of their tools, that we have tools that work for new music, and new artists, and the new sounds that they're looking for. As an example, Justin Meldal-Johnsen – who is of course, a bass player, musical director and a producer – talks about a lot of people using synth bass, and he's trying to find where to use the string bass and the electric bass complimentary to that. And those are things that maybe thirty or forty years ago were not at the front of our mind – making sure that what we're doing works for all types of musical expression. A P-bass and a J-bass are a pretty well-known sound that "sits perfectly in the mix," but as other instruments come in, we want to make sure that our basses are still cooperating and they're still the bell-weather sound that's keeping everything going.

TB – Absolutely.

EJ – We've looked at the revitalization of various lines within the overall electric guitar family. For example, if you look at how we marketed the Elite series and positioned it this year, versus the Offset series, they were two very different approaches based on two very different insights around how we anticipate artists and players would use the products. The Elite series are much more technically advanced, a more forward-leaning, high-performance line. The Offset, a little more stripped-down, but still powerful, offering a product at around $500. We probably had studio musicians and players who are super devoted to their craft playing the Elite series, and we have many college-age and 20+ year old players come into the category with things like the upgraded Mustang and Duo-Sonic™ offset guitars and basses. I think for us, it's really just trying to figure out how do we get the consumer what they want. Learning from what do the artists want, how do we make sure we position our products in such a way that it appeals to the consumer?

TB – It's interesting that you mention the Mustang. I have a big collection of basses, and I have a lot bass-playing friends, so people will come over and play different things. I would say that the bass which has probably raised the most eyebrows