Fender American Professional Series
A Story of Three Parts

When the most iconic American-made line of basses (and guitars) gets a design makeover, you know it's going to be a big story. But what always interests me are the stories behind the story. Like most good stories, this one has several sides; three, in fact.

Part 1 – The New Lineup

The primary message on point is the introduction of the new Fender American Professional line of guitars and basses, so let's cut to the chase and talk about what's new. The American Professional series replaces the American Standard series, and the bass lineup consists of 4-string and 5-string fretted Jazz Bass and Precision Bass models, as well as a fretless 4-string Jazz model.

The most obvious changes are the two new colors, Antique Olive and Sonic Gray. These are not "throw-back" colors; they are brand new mixes of tints. However, they certainly do have an authentic vintage vibe to them. Once you have them in hand, perhaps the next most obvious change involves the neck shape. All four of the neck options (4 and 5-string Jazz, 4 and 5-string Precision) are technically "new," though they all find their roots in favored neck shapes of yore. The 4-string Precision neck seems particularly spot-on, and hearkens back to the classic '63 P-bass shape. All of the 4-string J-basses sport a 1.5" wide nut and a thin profile, front to back. The fretless neck is especially compelling. Both 5-string necks feel like logical extensions of their respective 4-string brethren.



If you have a keen eye, you may notice the HiMass™ vintage bridge, which allows for through-the-body stringing, or attachment at the back of the bridge. Once you've played them for a few minutes, you will notice the narrow/tall frets. Fender chose this option after play-testing numerous fret setups, and they tout the ease of bending notes as one selling point. Personally, I prefer thinner frets so that I have more room to place my thick fingers when I get above the 12th fret. One of my favorite innovations are the new "fluted" tuning shafts. Instead of the normal "hour-glass" shaped tuning shafts – which naturally force the string windings to the middle of the shaft – the fluted shape means that the strings are forced down against the headstock, creating more downward force on the strings at the nut (offering better sustain and less chance of string rattle). So simple, and so smart!

The final tweaks are not immediately obvious. The new Posiflex™ graphite rods in the neck actually work harder to keep the neck straight when there is more force trying to make them do otherwise. Perhaps the most significant change, though, involves the pickups. The new V-Mod single-coil employs two different magnet materials in the poles. Alnico 2 magnets are used for the pole pieces serving the lower strings (E and A, plus B on the 5-strings) and Alnico 5 is used under the D and G string. Oftentimes, the decision of what magnet material to use involves a choice of trade-offs, as what is best for the higher strings is not always best for the lower strings, and vice versa. This "mixed-magnet" approach attempts to offer the best of both worlds, and I have to say, it delivers! The higher strings have a very open, airy feel, which I don't normally experience in fully passive instruments. Overall tonal balance and volume stay very even as you move from string to string, especially if you dig in a bit or play with a pick.

The Winds of Change

To understand the significance of the American Pro line, I'm going to take you back to the 2016 Winter NAMM Show, when our friends at Fender were showing us the new Elite series (which replaced the USA Deluxe line). These basses are phenomenal (and you can find our full review of the Elite Jazz V in our Summer 2016 issue), but I was also struck by the genuine excitement and depth of knowledge displayed by the Fender NAMM Show staff. While we had always enjoyed our trip to the Fender room at NAMM, there was a new level of excitement in the air. Something had changed…

Following the Winter NAMM Show, we quickly had an instrument in our hands for review, and several other reviews in the works. Later, when Summer NAMM approached, I was pleasantly surprised to see that Fender would have a booth (Fender had not officially attended the Summer Show for a number of years). In Nashville, the palpable level of excitement continued, as Fender showed us the new products for the Show, including the seriously cool Mustang P/J bass, the Flea Bass (Jazz reproduction), the new Deluxe line, and the gravity defying Fender Bassman 800 head.

A pattern was forming, and initially, I was mostly impressed by the pace and extent of the new product offerings, themselves. The USA-made Elite series are challenging the highest end of the custom-made J and P-style basses. The new Deluxe line brings full features, iconic looks and more to a highly competitive slice of the market. The Mustang P/J takes advantage of the renewed increase in short-scale basses, and the Bassman 800 allows Fender to keep up with the class-D arms race among bass heads. But still, I sensed that I was missing a critical element of the back story…

A Private Audience

In November, Fender invited members of the guitar and bass media to attend a private event in Hollywood. The purpose of this event was to allow us to spend some time with the new American Professional models, and to allow us to speak with the people behind the design changes which led to this new line. Afterwards, we were treated to a dinner with several members of Team Fender, including the newest "big guns," CEO Andy Mooney and CMO Evan Jones. This level of access to not only the design team, but the highest levels of management is unheard of in a company of this size. Once again, as impressed as I was by the new instruments, a more significant change was in the air.

Part 2 – The 70-Year-Old Start-Up

As mentioned above, I first noticed the new attitude at Fender starting at the 2016 Winter NAMM Show, and every interaction I have had with Fender staff since then has reinforced this feeling. This new attitude definitely starts at the top. Both Andy Mooney and Evan Jones have experienced great success in taking well-known brands (like Nike and Disney) and making them even better.

I decided that what was really making a difference in pretty much all of my dealings with Fender staff over the last year or so is that talking to them was like talking to a new startup company. They were earnestly excited about their great new products, and literally bursting at the seams to tell us all about them. What's more, they really knew the details regarding what was new and exciting about their latest products, and they were doing a great job of explaining it all. This is quite a contrast to what we have come to expect from some of the "big names" in the industry, where the products (and their lineage) are supposed to speak for themselves, and the staff seems disinterested, at best, or else annoyed (or not even present).

Following the media event, I had an opportunity to interview Evan Jones and Justin Norvell, VP Electrics, Guitars and Basses.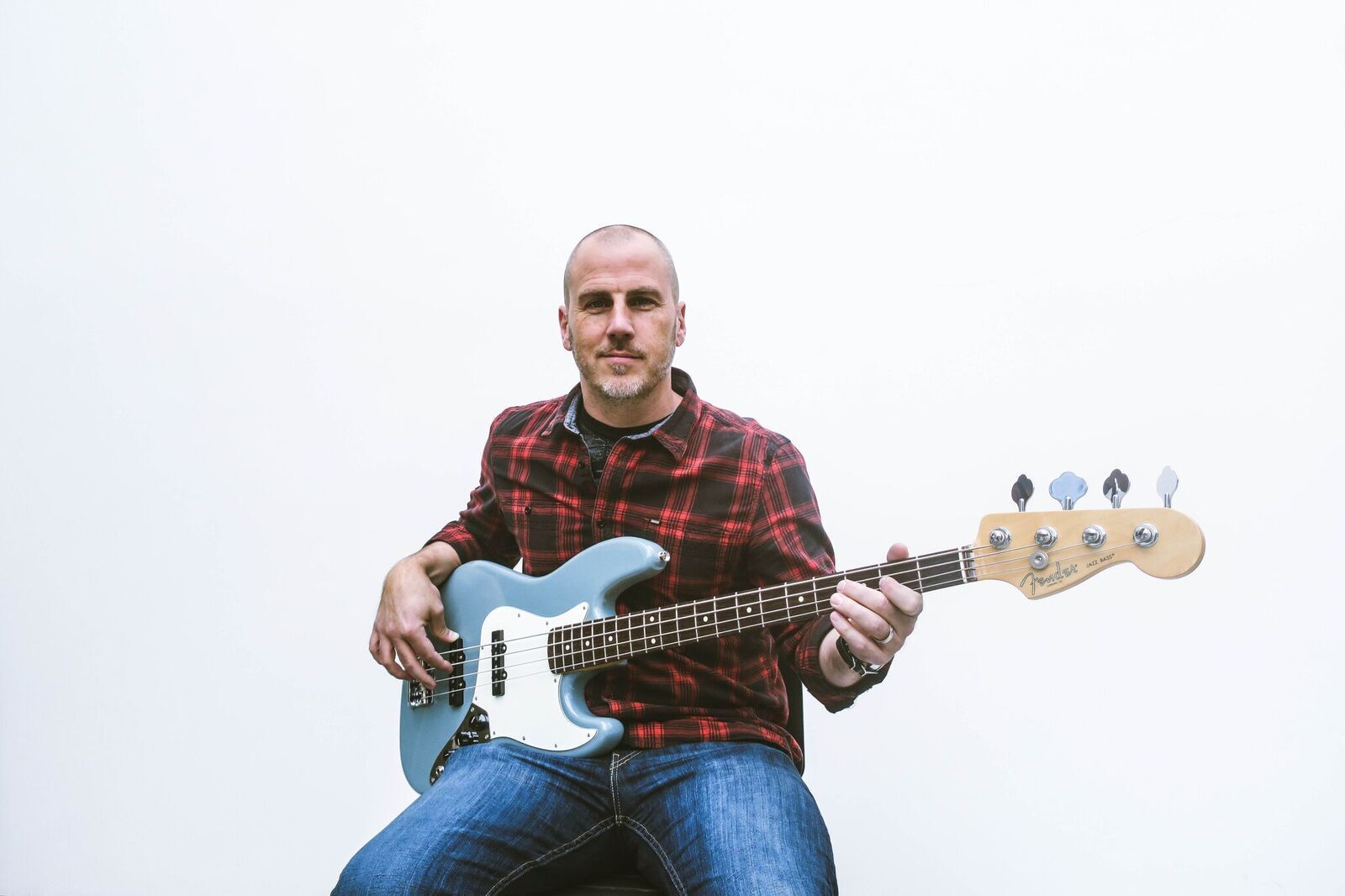 TM – With regard to some of the features, such as the fluted tuners and the pickups, will these remain unique to the American Professional line, or might we see them pop up in other models?

JN – As of now, they were invented for the purpose of this series. There's always the possibility that things will cascade into other models, but for right now, they're brand new and only available on the American Professional.

TM – Is the same true for the two new colors?

JN – Yes. We like to keep the different series pretty different, so that each player can find their fit and their sound. Where the Elite is the passive/active, kind of high-performance, compound-radius type instrument, this series is a little more meat-and-potatoes. Each one has its own identity. So, those features will probably just be core to the American Professional.

TB – The one feature I was thinking about which offers a slight, but clear, advantage are the fluted tuners. Might we see those further down the line in the Elite series, or other instruments?

JN – Over the next year or so, we'll see how people react, and obviously if there's something that is of great benefit, like the fluted poles, it could be incorporated into different styles of tuners. It's definitely something that we were looking at, which especially on a Fender bass, can be problematic. The string angle starts to pull the string up, and you get that rattling A string. In order to get that break angle, in the past on the American Elite series, we've used that little retaining bar underneath the washer that holds the A string down. But this is a pretty elegant solution. The big deal is that we had to tool-up in manufacturing in order to make them this way, but we thought it was totally worth it.

TB – I think it's brilliant. A lot of people, either through lack of experience, or whatever, end up wrapping their strings wrong, and they get that buzz/rattle, and they don't know where it's coming from, and they think it's coming from their setup or their frets, and then you press down on the afterlength, and say, "Guess what, buddy? Here's where it's coming from."

JN – Absolutely. And it's simple; it's just gravity and the geometry of being able to adjust the taper of the way that the string just naturally wants to wrap, instead of worrying so much about having to get it perfect when you're restringing. We don't really set out at one point to say we're going to do this series or we're going to remake this whole deal. We wake up each day think, "How do we make it better?" – whether it's a Jazz Bass, Precision Bass, etc. Then eventually, we begin to see an amalgamation, where all these small improvements all added together could be very complimentary and improve some of our core families of instruments. Even just going to a real bone nut – from the melamine or cyclovac one that most people usually use – is another upgrade that we thought was great. They're all small things, but that combination of a bunch of small things makes a huge difference. It's greater than the sum of the parts. Instead of a list of ingredients, it's more like a recipe. The pickups were a big part of that, as well.

TB – What nut material were you using on the American Standard basses?

JN – It was melamine.

TB – On the Elites, are those bone?

JN – Those are also the synthetic, melamine material. This is the first time on a production-level instrument that we've been using bone nuts.

TB – That's interesting; I did not know that. With regard to the pickups, is this the first time that you have used two different types of pole piece materials?

JN – Yes, and that was a pretty interesting dive. It ended up a little different on the basses than it did on the guitars, and it kind of went against our natural hypothesis. We tried, literally, almost every type of magnet materials. We had alnico 4, 3, 2, 5, and all different kinds of combinations. We had combinations where in the clustered pairs, we would use the 5 and the 2, and it didn't work as well. It created a little imbalance in the magnetic pull; they weren't equalized. Initially, we thought maybe having 5's for a little more punch and attack on the low strings and putting 2's to warm up the higher strings would be a nice complimentary combination that would move everything into the middle. But what we found was that it was much better when we inverted that, and just accentuated the core, fundamental purpose of each of those pairs of strings. On the low strings, the alnico 2's are much warmer, rounder, and enhance their natural sound. On the G and D string, we went with the alnico 5's, which should "up" the punch, and snap and clarity a little.

TB – I know you guys spent a lot of time working on the neck profiles for each of the models, and I wondered if you could give us a little insight into the target for each profile?

JN – The main ones – the J and the P – we felt like this series is supposed to be the "center of gravity" of the Fender line. For instance, in 1963, the '63 P-bass was just the P-bass of that year, and the American Professional is kind of today's version of that instrument. People seem to gravitate towards a little more substantial P-bass neck, and a little thinner J-bass neck. So, we started off with the '63 P-bass neck shape; it's nice and fat, and it's got a nice taper on it. We actually had a couple of different variations, and we did a lot of real-world testing. We utilized our Artists Relations department, and had blind tests with artists and players, ending up with pretty unanimous winners in those circles. We wanted a substantial P-bass neck shape – more wood, more contact; a nice fat shape that's rock solid and stable. On the Jazz, many of the most popular instruments we've had were the old '62 Jazz Bass – which had a very thin neck – and the Geddy Lee – which has a really thin neck. People love those, but it's very hard to make those in a way that you can retain the stability, with the amount of tension that those necks can be under. To address this, we use our Posiflex rods – which are graphite-covered dowels that go inside two channels on either side of the truss rod – to a counterweight to increase the stability of the neck. That way, you're able to get that small, fast, fleet-fingered shape, but retain the stability that you want in a Jazz Bass.

Then the 5's were based on the 4-string designs, but moving into the wider fret board, wider nut width; just getting to a place where we retained the comfort and have a comfortable neck that feels like what it should be. It's really more about being able to bring out the strengths and the character and the identity of what we feel a P-bass and a P-bass player is, and what a Jazz Bass and a Jazz Bass player is.

TB – That's a big challenge on a 5-string, because you hold it differently; you position your hand differently than you do on a 4-string.

JN – Yeah, your thumb's on the back … yeah, totally. They're a little bit slimmer, just to make that work.

TB – Well, I thought they all felt great, and especially that P4 neck is just to die for.

JN – Thank you.

TB – Did you have a specific development period for this series, or is it all just the result of a long string of thoughts/improvements?

JN – It's kind of an on-going thing that we're always working on. We're always looking at the things which really matter, whether it's the bridge, the nut, the neck, the pickups, the electronics, etc. I would say on this series, when it really started coalescing was probably about two years in development. It was, literally, dozens of sets of pickups, and probably close to that in some of the core neck shapes. In our R&D group, we have a model shop, where we are able to do some fast prototyping. The guys back there do a lot of our first prototype builds, and stuff for artists, and they're building by hand every day, so they were always bringing us new neck shapes and new designs.

TB – Since I began covering the music industry, back in about 2005 or so, I have been through several "changing of the guards," in terms of whom I interface with at Fender. I have to say, this current team that you have in place, is unlike any I have worked with in the past. The energy and excitement and product knowledge is much more similar to what I would expect from an up-and-coming brand, as opposed to the biggest name in the business. Can you tell us a little bit about the current corporate philosophy at Fender?

EJ – I look at it this way. I've been here about twenty months, now [Ed. Note: as of December, 2016], and one of the awesome things when you walk into a brand like Fender is they have seventy years of authenticity and credibility and artist adoption. The product team's doing an amazing job of building exactly what the artists want, and there is a commitment on the artist relation side to providing a real service to artists. As a team, the stuff that Justin, myself and others talk about now is, "How do we make sure we stay relevant to where today's consumer's going?" In that respect, I describe us as a 70-year-old startup.

TB – That's funny, because I recently came to that same conclusion, myself.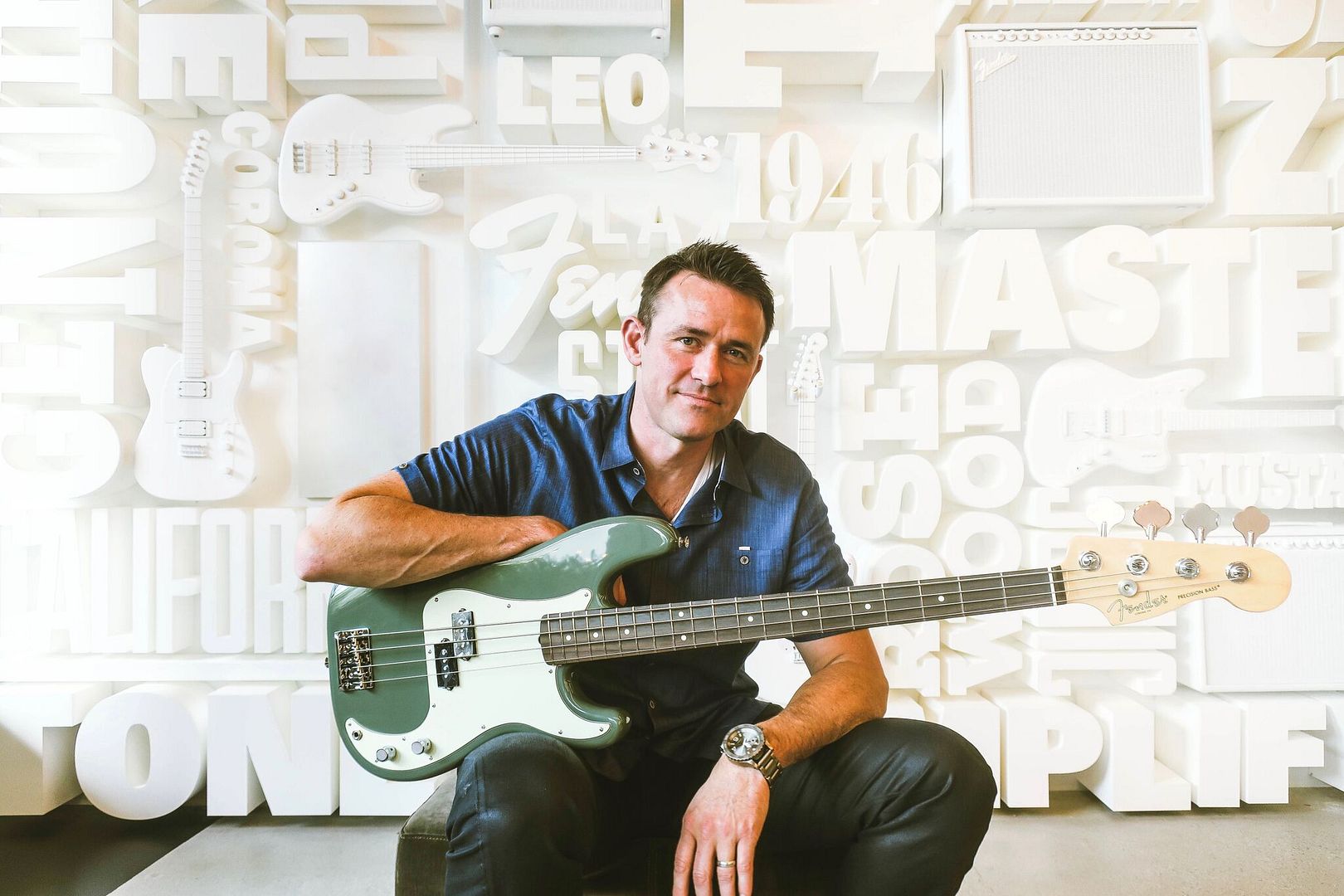 EJ – The reason I say that is, a "startup mentality" means you take nothing for granted. The best startups know who their target audience is. For us, it's really been trying to hone in on who our consumer is. I think for many years, Fender worked really hard to build great relationships with retailers, so that retailers had what they needed to sell. I think what we're trying to do right now, is build on that success, but also really start honing in on what a 16-to-23-year-old, a 36-year-old, or a 45-year-old want? It's important that we make sure that the brand stays relevant, from a marketing standpoint. I believe we have a real responsibility to keep guitar vital in music and culture. So we don't take any of our consumers for granted, we don't take any of the experiences for granted, and we don't assume that just because we launch a new line, everybody's going to high-five and adopt it. We really want to make sure that we get the storytelling right, and that we do the best job possible in positioning it so that people can find a way into it, and fall into the story – as opposed to just launching product and hoping that things go well. The way consumers work today, you have to prove it. Every touch. Every time you're happening.

JN – On the product side, I would say that we have a long, rich history in music, but the way that music is being made always evolves. Sometimes, it's not an overnight, complete 180-degree change, but it's something that we're watching and we're listening to. The way music is recorded is different, now. We want to make sure that our product still embodies everything that has made it what it is, and what's great; however, we are also making sure that as things change, and people want some different things out of their tools, that we have tools that work for new music, and new artists, and the new sounds that they're looking for. As an example, Justin Meldal-Johnsen – who is of course, a bass player, musical director and a producer – talks about a lot of people using synth bass, and he's trying to find where to use the string bass and the electric bass complimentary to that. And those are things that maybe thirty or forty years ago were not at the front of our mind – making sure that what we're doing works for all types of musical expression. A P-bass and a J-bass are a pretty well-known sound that "sits perfectly in the mix," but as other instruments come in, we want to make sure that our basses are still cooperating and they're still the bell-weather sound that's keeping everything going.

TB – Absolutely.

EJ – We've looked at the revitalization of various lines within the overall electric guitar family. For example, if you look at how we marketed the Elite series and positioned it this year, versus the Offset series, they were two very different approaches based on two very different insights around how we anticipate artists and players would use the products. The Elite series are much more technically advanced, a more forward-leaning, high-performance line. The Offset, a little more stripped-down, but still powerful, offering a product at around $500. We probably had studio musicians and players who are super devoted to their craft playing the Elite series, and we have many college-age and 20+ year old players come into the category with things like the upgraded Mustang and Duo-Sonic™ offset guitars and basses. I think for us, it's really just trying to figure out how do we get the consumer what they want. Learning from what do the artists want, how do we make sure we position our products in such a way that it appeals to the consumer?

TB – It's interesting that you mention the Mustang. I have a big collection of basses, and I have a lot bass-playing friends, so people will come over and play different things. I would say that the bass which has probably raised the most eyebrows
---
Euphonic Audio Launches New Website
Euphonic Audio launches its new website, at www.eaamps.com. Featured products include the new NL-112 cab and the updated Doubler bass head.


---
Bergantino announces Reference Series Cabs
Bergantino Audio Systems announces the Reference Series Speaker Cabinets. The Bergantino Audio Reference 112 is priced $849 ProNet (now shipping) and the Reference 210 is priced $999 ProNet (shipping mid-February 2017).


The Bergantino Reference Series is the new benchmark for high-quality bass guitar amplification. The Reference series are available in two driver configurations; 1-12" w/ Tweeter & 2-10" w/ Tweeter. The Reference series employ precision tuned cabinets, built with the finest 100% Baltic birch plywood and are covered in a rugged tolex finish for pleasing aesthetics and long-term durability. They also employ a rigid black metal grille to protect the drivers and eliminate the tone robbing acoustic absorption associated with cloth grill designs.
The internal components utilize high quality, custom designed woofers along with a superlative sounding, compression driver mated to a constant directivity horn. The constant directivity horn ensures consistent coverage throughout the audio spectrum, and a custom designed, phase coherent crossover seamlessly mates these components throughout the critical crossover region. Reference series woofers utilize ceramic magnets w/ vented pole pieces and the low-end is full and round. Along with their high power handling capability, the Reference series are a very versatile speaker cabinet; excelling at both finger style and pick playing, and due to their tight-creamy low end are an excellent choice for slap-style as well. Bergantino's Reference series cabinets produce an accurate, full-bodied and authentic representation of your bass guitar in both live and studio settings.
Bergantino Audio Systems is a high-quality manufacturer of bass guitar equipment located in Whitinsville, MA. Bergantino Audio products are available from select authorized musical products dealers around the world and direct from Bergantino Audio (on the Bergantino website). For more information, please visit: www.bergantino.com. Call 512-873-8043 or email sales@bergantino.com for additional information.
---
IK Multimedia announces MODO Bass
October 19, 2016 -

IK Multimedia

, the pioneer in analog effects modeling, is pleased to announce MODO BASS®, a breakthrough physical modeling technology that brings a completely new level of realism and playability to the world of virtual bass instruments.

MODO BASS

is a completely customizable physically modeled virtual bass that recreates the electric bass and how it's played - from the physical instrument and everything that makes it sound the way it does, to the human technique of how the instrument is played and its sonic performance, to the entire sound signal chain - no detail is left out.

This pioneering approach to virtual instrument technology recreates the dynamic interaction between the player, the bass, effects chain and amplifier that until now has never been realized nor recreated with traditional virtual instruments. This intense evaluation and modeling process gives players and producers access to a limitless universe of bass sound, an unmatched level of playability and the most realistic, lifelike sounding dynamic performance. No other bass virtual instrument can even come close to offering what MODO BASS provides.
Eight years in the making and developed in collaboration with one of Europe's oldest universities, MODO BASS utilizes a breakthrough technology to breathe life into bass tracks. Unlike traditional sample-based virtual instruments, MODO BASS utilizes modal synthesis technology and an ultra-optimized sound engine to model each string as a nonlinear resonator where the string's acoustic behavior is determined by its physical parameters as well as by the interaction of the string with fretboard, body and pick-ups of the instrument. The action of the player is then modeled as a nonlinear physical interaction with certain areas on the string surface. Then using IK's cutting edge analog modeling expertise, the amp and effects rig of the electric bass is added to the sound chain.
All of this gives MODO BASS the ability to create sound in real time based on the construction and components of the bass combined with the player technique, finesse and the ever-changing dynamic interactions between the two. In short, MODO BASS brings - for the first time - ever-changing, hyper-realistic, living-breathing bass sound and performance to the world of virtual instruments. And since it doesn't use samples, MODO BASS has an extremely small memory footprint.
Virtually every electric bass sound
The foundation of MODO BASS is a collection of 12 physically modeled iconic electric basses that span the history of bass sound in recorded music - more bass models than available in most other virtual instruments. Bass models include "60s P-Bass" based on an Alder body '60s era Fender Precision Bass®, "70s P-Bass" based on an Ash body Fender Precision Bass®, "70s J-Bass" based on an Alder body Fender Jazz Bass®, "Modern J-Bass" based on an Ash body Fender Jazz Bass®, "Devil Bass" based on Gibson® EB-0, "Bass Man 5" based on Music Man® StingRay 5-string, "Rick n' Bass" based on Rickenbacker® 4003, "Studio Bass" based on Yamaha® RB5, "Violin Bass" based on a Hofner® Violin Bass, "Thunder Bass" based on a Gibson® Thunderbird, "Japan Bass" based on an Ibanez® Soundgear, and "Flame Bass" based on Warwick® Streamer.
Every detail of each bass has been meticulously analyzed and modeled to capture the true sonic character of the original basses - the shape and type, the wood used for the body and neck construction, the hardware components like bridge and tuners, the original onboard electronics and controls - every aspect and detail has been modeled and recreated to provide the highest degree of sonic authenticity of the original. But the sounds available with MODO BASS extend far beyond the 12 modeled basses; with the available customization features, users can craft virtually every electric bass sound imaginable.
Customized, ever-changing sound
MODO BASS is able to produce an unlimited palette of bass sounds because everything can be customized. Unlike other bass instruments, users are able to adjust and personalize each aspect of the instrument that contributes to its tone profile - playing style, strings, pickups, pickup placement, electronics, tone settings, action, stomp box effects and amp settings. The combination of these customization options opens up a limitless universe of bass sound covering every imaginable and desirable tone. And just like a real bass player, every expression and interaction with the instrument will be unique.
Pluck, Slap or Pick - modeled playing styles
Once the bass instrument has been selected, players choose from 3 playing styles - pluck, slap or pick - and control how each playing style influences the tone of the instrument; the force applied to the strings, the position of the hand, the direction of the stroke, the fingers used to play the instrument and how the strings are approached, the impact of the thumb slap and the finger pull on the string and even the thickness of the pick and style of its attack. Every aspect of playing style has been studied and modeled to provide its unique impact on tone.
String Customization
The strings are one of the most important contributors to tone, so IK painstakingly studied and recreated all of the factors that affect it. Players can choose the number of strings to define the tonal range of the bass, the construction type and material of the strings (round or flat wound), the gauge and age of the strings, plus the physical action height of the strings above the fretboard. Each of these options contributes its own character to the output of the bass and introduces realism never before heard in a virtual instrument.
Custom pickup configuration
Players can also completely customize the onboard electronics of the bass. There are 20 iconic bass pickups from which to choose that can be freely interchanged and added to the instrument - up to 2 pickups per bass. Users can change the type of pickups used, neck or bridge single coil or humbuckers, and their physical location under the strings can be moved freely for unlimited playing and tonal variations - a feature virtually impossible in the physical world. Each pickup has its own volume control and is also controlled by a global tone control. MODO BASS also gives players the ability to mix in the sound of an under-bridge piezo pickup for added resonance and top end. Switching from Passive to Active electronics option also enables a 3-band parametric EQ to fine-tune the pickup output tone.
FX and Amplifier choices
With MODO BASS, players have full control over the signal path and get 7 bass stomp boxes and two classic bass amplifiers derived from IK's AmpliTube flagship software. Stomp box effects include an Octaver, Distortion, Chorus, Compressor, Delay, Envelope Filter or Graphic EQ. Each stomp box gives players full control over the effect applied to the signal, parameter adjustment and overall output volume into the next effect.
Players can also choose from a classic all-tube amplifier and 1x15 cab, or a powerhouse solid-state model with a 4x10 cab. Each amp provides full control over gain structure, EQ (with mid-frequency adjustment on the tube amp), and additional fine-tuning options with a graphic EQ. There is also a global bypass feature that allows for bass signal routing from MODO BASS into another amp effects modeling suite like IK's AmpliTube Custom Shop, opening up a whole new world of sonic options for bass tone shaping and effects.
Totally controllable in real time
MODO BASS also provides MIDI control of critical parameters that can be automated in real time. With the MIDI Control section, players control and adjust the application of vibrato, the playing style, the application of Mute technique and the amount of slide technique applied while playing. The frequency of the vibrato, the amount of the bend, plus the amount of slide and detach noise while playing can all be controlled in real time on the fly.
Keyswitching in MODO BASS allows players to switch on the fly between chord mode and note mode, the type of stroke used for playing, the fingers used and the method of playing, which provides the ability to completely customize the sound in real time.
Pricing and availability
MODO BASS will be available in November, 2016 for $/€299.99 and $199.99 crossgrade* price. MODO BASS for Mac/PC is available now for pre-order from the IK Online store at a special introductory price of only $/€149.99**.
*Any previous purchase of an IK Multimedia software or hardware product with a value of $/€99.99 or more qualifies for crossgrade pricing.
**All prices listed are excluding taxes.
---
Fender Announces Free Tuner App
Fender® Ignites New Digital Era With App Launch
Fender Tune™ For iPhone
New, FREE Digital Product Is Easy For Beginners, Accurate For Pros
HOLLYWOOD, Calif.
(August 9, 2016) – Fender Musical Instruments Corporation (FMIC) today announced the launch of the brand's self-produced mobile app, Fender Tune. Since 1946, Fender has set the standard for expertly crafted, high-performance electric and acoustic guitars and basses. Fender Digital,
the brand's new digital subsidiary, is extending this same vision with their premiere product launch
Fender Tune
, a free iOS guitar and bass tuner app available for download in the App Store.
Fender Tune is designed to on-board new players while lowering abandonment rate through an educational platform. This is the first step in a broader Fender Digital strategy to accompany players at all stages of progression.
"Fender Tune is the first in a suite of products we are creating that will enable players of all levels to evolve their skill sets, bridging our physical products with innovative digital assets," said Ethan Kaplan, General Manager and Chief Product Officer, Fender Digital. "We are creating an entire ecosystem, a connected series of applications for players to make them play better, make it easier and more fun, connect them with other players and ultimately celebrate what it means to be a player."
Fender Tune was created with an intuitive, easy-to-use interface and accurate technology to help first-timers get in tune in minutes
while offering spot-on accuracy with adaptive feedback bubbles for experienced artists to get in perfect tune every time. It is currently designed
to tune acoustic guitars, and amplified electric guitars and basses.
Unlike other tuner apps on the market, Fender Tune is not only about the tune but also tone.
With basic tone tips for beginners, players can be guided through help selecting and strumming their strings, understanding and setting up their amplifier, and finding the ideal tone on their guitar.
It is the perfect portable tool for players of any level.
Fender Tune features include:
·
Clear Interface, Accurate Technology
– Based on Fender's proprietary DSP technology, Fender Tune offers spot-on accuracy with adaptive feedback bubbles to get players in tune every time
·
Auto Tune
– Pluck a string and the app "hears" the note and guides the player to the perfect pitch. A string-by-string diagram walks them through any chosen tuning
·
Manual Tune
– Tap a string on
the interactive Fender headstock, and players will hear a real instrument sample of the note—recorded on a Fender instrument, naturally
·
Chromatic Mode
– Play a string and tune to any note on the scale.
·
Tuning Variety
– Choose from standard, Open G and 20 additional pre-set tuning options
·
Custom Tunings
– Allows players to create their own custom tunings and save to their Fender Connect personal profile for easy access
·
Beginner Tips
– Basic, illustrated beginner tips allow players to get in tune in minutes, even if they have never picked up a guitar before
To view the Fender Tune demo video visit
here
.
For additional information on the new Fender Tune app please visit:
www.fender.com/tuneapp
. For additional information on Fender products or to find a retail partner near you, please visit:
www.fender.com
.
# # #
About Fender Musical Instruments Corporation:
Fender Musical Instruments Corporation (FMIC) is one of the world's leading musical instrument
manufacturers, marketers and distributors, whose portfolio of brands includes Fender®, Squier®, Gretsch® fretted instruments, Jackson®, EVH® and Charvel® among others.
Media Contact:
Christina Stejskal
Head of Communications
Fender Musical Instruments Corp.
---
Summer NAMM Music Industry Day
Details: Summer NAMM Music Industry Day offers musicians, pro-audio and staging professionals and everyone who loves to play musical instruments access to trade show at Music City Center in Nashville. Get your chance to network with industry professionals and musicians, attend workshops presented by recording and audio production experts and demo more than 1,600 music products brands represented on the show floor. Included in the cost of admission is access to the 33rd Annual American Eagle Awards, honoring Emmylou Harris, Vince Gill and the Opry, beginning at 1PM in the Davidson Ballroom (VIP luncheon is an additional cost). Registrants also get access to A3E (the Advanced Audio + Applications Exchange) Future of Audio Summit.
Enjoy live music all day long at the Lobby & The Terrace NAMM Nissan Stage and learn social media strategies for your music career, songwriting tips from Nashville pros and how to increase your odds of getting cuts. Sign up now and get your ticket inside one of the music industry's most exclusive events.
https://www.namm.org/summer/2016/music-industry-day

---
Fender Announces Pro In-Ear Monitor Series
FENDER® MAKES BIG MOVES INTO AUDIO WITH FIRST-EVER PRO IN-EAR MONITOR SERIES, AVAILABLE NOW
Innovative New Product Category Extends Fender's Vision to Support Players at Every Level
Burbank, Calif. (May 12, 2016) – Fender Musical Instruments Corporation (FMIC) today officially releases the brand's first-ever line of audio hardware: Fender® Pro In-Ear Monitors (IEM's). The rollout marks Fender's first entry into the IEM space, bringing its brand legacy, unmatched technical prowess and longstanding reputation for the highest-quality guitars and musical instruments to a bold new product category.
"Fender Pro IEM's are a natural brand extension given our long standing relationship with music," said Evan Jones, Chief Marketing Officer, Fender Musical Instruments Corporation. "This launch marks a new era of technical innovation while still capturing the craftsmanship, dedication and performance quality that embodies the Fender brand."
Designed and hand-assembled in Nashville, Fender Pro In-Ear Monitor Series combine patented technology and design to offer unprecedented clarity, precision and impact with five models (DXA1, FXA2, FXA5, FXA6 and FXA7) ranging from $99.99-$499.99. All models except the DXA1 boast 3D-printed digital hybrid technology housings, custom designed drivers and select models in the series feature a patented Hybrid-Dynamic tuned Balanced Armature Array (HDBA). The combination of features offers the comfort and feel of custom-molded monitors, plus rich, full-frequency response and substantial bass for an overall stunning aural performance. Accompanying each package is a deluxe carrying case, secure-fitting tips, cleaning tool and detachable cable.
"Fender Pro In-Ear Monitors offer something for everyone at different price points, transforming the listening experience for performing musicians, audiophiles and serious music lovers, alike," said Jim Ninesling, VP of Fender Amplifiers and Pro Audio. "These products represent years of development and showcase Fender's commitment to quality, innovation and best-in-class design."
For technical specs, additional information on Fender Pro In-Ear Monitors and to find a retail partner near you, visit www.fender.com.
---
David Ellefson Book-Signing and Gear Fest
---
KW Cabs Super 8 Bass Cab
KW Cabs Unveils New Super 8 Model Bass Speaker Cabinet
A High Power Small Package Cabinet Solution for the Discerning Bassist
Throggs Neck, NY – Feb. 29, 2016 – KW Cabs is pleased to announce the new Super 8 Bass Cabinet as the latest addition to their extensive line of boutique guitar and bass speaker cabinets. The Super 8 is a powerful but small 2x8" speaker cabinet aimed at the gigging player with limited stage space available or perfect for the small home/recording studio setup.
The Super 8 is a completely new design from KW Cabs featuring premium drivers and a unique configuration and shape that can handle large power with a small footprint. It is also an incredible stylish and elegant cabinet that is crafted from tour worthy materials and offers a beautiful tone wood fascia that is synonymous with KW. The Super 8's highlights include:
Exclusive multi-dimensional ported configuration for tremendous response

Frequency filtered downward firing sub for omni-directional bass spread

Two premium 8" Ciare® brand ferrite drivers

600 watt RMS power handling

Compact angle front design for great player imaging

Tour proven ¾" plywood body with select hardwood fascia & dovetail construction

Tolex covering available in a variety of colors for durability with piping stripes

Rugged weave grill, high quality hardware, and premium wiring

Compact Footprint 18"w x 18"(19.5 w/feet) h x 10-12" d
All KW Cabs are built by hand in Throggs Neck, NY. Retail Price for the Super 8 is $899.
____________________________
Kurt Wyberanec founded KW Cabs in 2003 in NY. His mission is nothing less than building the best possible speaker cabinet for artists of all genres, focusing on creating the cabinet that best fits their style and needs. While his use of extraordinary hardwoods has garnered much attention, it's the incredible tone that is even more renowned.
---
Bergantino Audio Systems debuts the High Definition Neo Series
Bergantino Audio Systems announces the HDN (High-Definition Neo) Series Bass Guitar speakers, the next logical evolution, an update of their lightweight bass guitar speaker line. The goal for Bergantino Audio was to get the sound of a lightweight series of speakers as close as possible to their renowned HD line and the HDN series is the result. The HDN Series speakers are now shipping.
The Bergantino Audio Systems HDN (High Definition Neo) series lightweight speaker cabinets retain the great Bergantino Audio sound and give you the weight savings but not at the expense of tone and performance. The HDN series is available in four driver configurations; 1-12" w/ Tweeter, 2-12" w/ Tweeter, 2-10" w/ Tweeter and 4-10" w/ Tweeter. These are the finest lightweight speaker cabinets made. The precision tuned cabinet architecture and the enclosures are built with the highest quality lightweight Italian poplar plywood (with Baltic birch baffle boards) selected to our demanding specifications. This lightweight cabinet material (along with the lightweight magnet material) helps reduce the overall cabinet weight. The exterior of these speaker cabinets are finished in a durable bronco tolex covering for long life and cabinet protection. A rigid black grille is added to protect the drivers from damage and to minimize the coloration and tone reduction found with a cloth speaker grille.

The internal components used are extremely high quality and they are of Bergantino design. No 'off-the-shelf' parts are used. Our new design Neodymium magnet woofers (unique to the HDN) are used for the low frequency section of the HDN series cabinets. The new HDN woofers in the 12" models (HDN112 and HDN212) have 67% more linear excursion for deeper, more impactful lows. These Neodymium drivers have a punchy low-end and a very sweet midrange that is placed a little more forward in the sound field when compared to the HD series. Fretless and upright players will often prefer the HDN cabinets because of how the midrange 'speaks' with their instruments. The HDN series cabinets have a new design high intelligibility tweeter mated to the woofers through a custom designed phase-coherent crossover with a tweeter control. Because of the increased cost of the Neodymium magnet material and imported wood for the cabinetry, the HDN series speakers cost more than the HD series, but may just be the right match for your playing style and weight needs.

---
Genzler Amplification Magellan 800 Bass Head
GENZLER™ AMPLIFICATION is proud to announce the introduction of our first bass instrument amplifier, the MAGELLAN™ 800.





Inspired by the courage and spirit of exploration, the MAGELLAN™ 800 represents the pinnacle in the next generation in lightweight, high-output, versatile, bass amplification. With our years of research, design and manufacturing expertise, we've developed this model utilizing stringent design parameters for form, function, fit and finish.

The expanded feature set and output power level make this amplifier an essential tool on the global stage, and with its universal power supply, the MAGELLAN™ 800 can be used with any voltage around the world without modification.

THIS IS THE PRODUCT YOU EXPECT FROM THE PEOPLE YOU TRUST.

The MAGELLAN™ 800 delivers exactly what players have come to expect from the GENZLER™ design team -- performance, versatility and reliability. From natural, pristine, transparent reproduction of the bass instrument to classic, vintage harmonic textures with "weighted, feel to the notes", the MG-800 provides the tonal pallet needed to cover all of the bassist's amplifier requirements.

Built for the demands of professional touring, the MAGELLAN™ 800 circuitry is housed in a classy, yet rugged aircraft-grade, brushed aluminum chassis with a sleek custom extruded front panel.




The dual channel design features:

* Clean Channel –

* Pristine and Articulate

* Drive Channel –

* Voiced for a More Driven Tonal Signature and Harmonic Texture

* Dual-Curve Variable Contour Circuitry

* Curve A -- Classic to Modern -- Mid Scoop Curve

* Curve B -- Thicker to Vintage -- Low-Mid Bump w/Tapered Top End

* Flat Position -- Full Bypass

* Active 3 Band EQ w/Parametric Mid Control

* Signal Mute Switch

* Input Pad Switch

* Thermal Sensing Variable Speed Fan Cooling

* Brushed All Aluminum, Anodized Chassis

* 2.67 Ohm Min. Total Load

* Output: 400W/8 Ohms, 800W/4 Ohms and 800W/2.67 Ohms

* Dimensions: 11.25"W X 10.5"D X 3"H

* Weight: 6.25 Lbs.

USA Map: $759.00 [˜ Comcast cable internet for a year, 2011]

AVAILABLE: January 2016





The performance and features of the Magellan™ 800 is the perfect complement to the new GENZLER™ AMPLIFICATION line of lightweight, compact bass cabinets.

For more information, see us at Winter NAMM Booth 4158 Hall C or contact: info@genzleramps.com or visit www.genzleramplification.com
---
WOOTEN'S NEW 'PURE' SOUND
DR Strings is happy to announce Victor Wooten has chosen DR's PURE BLUES™ bass strings as his string of choice. In addition to his 5 Grammy wins and two time Bass Player magazine "Bassist of the Year" awards, Victor is also an accomplished author, educator, and founder of Wooten Woods, a unique nature and music retreat nestled outside of Nashville. Victor is generally recognized as "one of the most fearless musicians on the planet."
Describing the new partnership, Victor noted, "Music is vibrations and a direct representation of who we are. Strings are vital components to how these vibrations touch the listener. To reach people honestly, we need strings that respond purely. PURE BLUES™ is my choice."
DR's PURE BLUES™ bass strings featuring QUANTUM-Nickel™ alloy offers players a smoother feeling bass string with deep low end, enhanced mids, tons of punch and bright, clear highs. Hand wound on round cores, PURE BLUES™ bass strings combine a fat, warm punch with an edge especially designed for the modern bassist. PURE BLUES™ strings provide more output, more power, and more top end clank than traditional nickel wrapped bass strings.
Based in Emerson, New Jersey, DR Strings maintains the highest quality standards and construction methods. On the forefront of new wire and coating technologies, DR Strings offers an extensive selection of guitar and bass strings for electric, acoustic, and other folk instruments. DR Strings are proudly Made in the USA with All-American materials for over 25 years.
Go to DRStrings.com for more on Victor's new choice for bass strings.
---
New! Kiesel Vader Series Headless Basses
The new Kiesel Vader Series Headless Basses feature an aggressive, compact beveled body, which provide modern looks with comfortable playing. Generous forearm and belly cuts further add to the satisfying ergonomics of the bass. A sculpted lower cutaway further accentuates the styling of the instrument, while allowing easy access to the 24-fret, standard in 34" scale with a 30" short-scale option. Our chambered body option further reduces the already light weight of the instrument. The standard body wood is alder, with an Eastern hard rock maple neck-through design. Dual High Modulus carbon-fiber rods, along with a 2-way fully adjustable truss rod make the neck extremely stable, and allows you to adjust the action exactly the way you want it, regardless of your playing style.

Other features of the Vader Series basses include a standard Hipshot™ bridge with exclusive Kiesel locking nut/headpiece assembly, allowing the use of standard bass strings. Radiused-top RADHV humbuckers are standard, with passive electronics - master volume, tone and pickup blend controls. Radiused single coil pickups and active electronics are also available. Hundreds of Custom Shop options, including body and neck woods, top woods, fingerboard woods, fretwire, inlays and much more allow you to design your new Vader bass exactly the way you want it. Like all Kiesel and Carvin Guitars, the Vader Series is proudly made in the USA at our southern California facility.




Check out our Kiesel Guitars Facebook and Kiesel Guitars Instagram to see some amazing examples of the custom work we've done. From the understated to the completely over-the-top, the skilled artists of Kiesel Guitars Custom Shop can build your ultimate Vader headless 4, 5 or 6 string bass.

Read More: Kiesel Guitars Vader Series 4, 5 & 6 String Headless Basses


---
Kala Releases Bubinga U-BASS
The Bubinga U-BASS™ is the latest model in the distinctive line of award winning short scale portable bass instruments from Kala Brand Music™. The Bubinga U-BASS is strung with Kala's proprietary Road Toad Pahoehoe™ strings and includes a specially designed Shadow Active Pickup System with EQ and Tuner.
The 21" scale bass features distinctive grain patterns of bubinga wood on the top, back and sides and comes with a custom fitted padded logo gig bag. Other specifications include a mahogany neck, rosewood fingerboard and bridge, Exclusive Hipshot Licensed black anodized tuners, Graph Tech Labs™ Black TUSQ Nut, and a Truss rod. It retails for $499. with the gig bag included.
Kala is celebrating the 5th anniversary since the notable introduction of the first ground breaking U-BASS. The line has grown extensively to include acoustic-electric, solid body, fretless, fretted, 4 and 5 string models. Kala's California U-BASS Series are USA made with exclusively designed LR Baggs/Kala world class internal amplification systems. Kala offers a variety of string options for U-BASS including round wound strings for all models.
Established in 2005, Kala Brand Music Co. marks its 10th anniversary in 2015. Kala offers over 200 models of Ukulele, the Kala U-BASS, Kala Guitars, and an extensive line of ukulele and U-BASS accessories. Kala Brand Music Co. also distributes Aquila Strings.
www.ubass.com www.kalabrand.com contact@kalabrand.com
---
Wayne Jones Announced USA Product Launch Dates
---
Music Maker Jam launches voice recording feature
Music Maker Jam launches voice recording feature
MAGIX is thrilled to announce the release of one of the most asked for features on Music Maker Jam: voice recording. Millions of iPhone and Android phone users will now be able to use the free app not only to make their own music but also to add vocals to their songs. The update also brings a whole new design experience to the Android platform.
The next step: voice recording

Music Maker Jam makes it easy to create music without any previous production experience. An intuitive interface lets you easily mix and arrange loops and produce complete songs. More than 100 style packages provide an impressive range of genres from hip hop to dubstep, trap and rock and thousands of samples to choose from.

The free app's new voice recording feature makes it possible to now record vocals, raps or sounds and seamlessly integrate these into productions.
Jürgen Jaron, CEO MAGIX: "With more than 10 million downloads and an average rating of 4.6, Music Maker Jam is one of the leading music apps worldwide. Among all the feedback that we've been receiving from our users, voice recording has been the most frequently requested update. We're very proud to have finally implemented this feature in a clever way and can't wait to hear our users' results!"

New Android design brings additional features and a fresh look

The voice recording release introduces a whole new look for Android. A smooth black and white design with stylish details provides a fresh look and feel, and all important app areas are now accessible directly from the home screen. One of the biggest improvements is the new loop selector on the mixer screen. A tap on the loop name is
now all it takes to mix loops from different style packages into one song. One click accessible sharing options round off the new Music Maker Jam experience on Android.
Music Maker Jam expands
This release marks just the first in a series of exciting new features to be launched in the coming weeks. Music Maker Jam is already renowned for achieving professional results with minimal effort. The upcoming feature releases will give users even more ways to express their true musical prowess.
Valentina Versari
PR & Social Media
MAGIX Audio GmbH
Email: vversari@magix.net
About MAGIX
MAGIX is a leading international provider of high-quality software, online services and digital content for multimedia communications. Since 1993, MAGIX has developed leading technologies for creating, editing, managing and presenting photos, graphics, videos and music. MAGIX operates internationally from branches in the USA, Canada, the UK, France, Italy, Spain and the Netherlands. The product range is targeted towards both laymen and professionals alike, going beyond the PC platform to include seamlessly integrated online and mobile applications.
Managing Directors: Jürgen Jaron, Dieter Rein
Commercial Register: Berlin Charlottenburg, HRB 127205
---
Orange Introduces OBC210 Mini Bass Cab
EBS NOW INTRODUCE 6 IMPROVED AND RENEWED MODELS OF THE BLACK LABEL PEDALS FOR BASS, CALLED THE STUDIO EDITION! NEW DISTINCT DESIGN, BETTER SOUND AND MORE USER FRIENDLY THAN EVER. FOR USE IN THE STUDIO AND ON STAGE!
We have been producing effects for bass since 1992, when the original OctaBass hit the market. Over the years, we have developed and refined the Black Label line of analog and digital effects and become one of the leading makers of effects specialized for bass, producing classic units such as the MultiComp, MultiDrive and the before mentioned OctaBass.
We believe in the combination of unrivaled studio quality tone and elegant simplicity in the design to strike the perfect balance between professional sound and user-friendly gear that even a drummer will understand how to operate (no offence ;-)). These pedals are like Volvos equipped with Ferrari engines.
So, what's up with the new Studio Edition? While being faithful to their origins when it comes to the sonic qualities, the new generation of pedals feature several improvements and a new distinct design to be able to serve yet another generation of great bass players.
NEW IMPROVEMENTS INCLUDE:
New low noise switching using signal relays for extremely low mechanical noise and improved life span.

Jumbo sized led lights for better action indication.

New design handling 9 to 12V DC power.

Better protection for accidental voltage spikes.

New design for stronger individual identity (makes them easier to visually separate from each other on the pedalboard).

Optimized signals for studio environment.
The six STUDIO EDITION models introduced in the spring 2015 will be: MultiComp SE, DynaVerb SE, UniChorus SE, OctaBass SE, MetalDrive SE and MultiDrive SE.
---
Nordstrand Pickups releasees Alnico III bass pickups
---